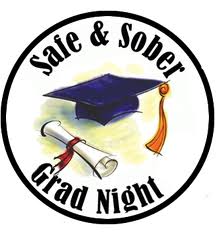 The annual Grad Night Party is a safe and fun all night party organized by the PTSA. It is a chaperoned party that happens on Grad Night each spring. After the graduation ceremony, Seniors check in & board buses at WSHS. Then head to Secret Entertainment Venues in the Seattle Area for non-stop FUN, FUN, FUN. This is an all-inclusive ticket which includes bus transportation, fun activities, entertainment, dinner, breakfast and most importantly peace of mind for parents.
PARENTS!!  DON'T LET YOUR STUDENT MISS THIS FUN EVENT!  This is a tradition that our seniors consider to be one of the highlights of their high school years.  Statistically, graduation night has a high incidence of alcohol related car accidents. We want our seniors celebrating in a safe environment.
Ticket Price is $75 – Actual Cost is $175. Senior Parents raise funds to keep ticket price down. Please support our various fundraisers!
Download the Registration Form so your Senior doesn't miss out on this fun night of celebration!
Contact Grad Night Coordinators: Amy Doll asdoll@seattleschools.org or 206-252-8813 or Catha Elder cathasue@comcast.net
Grad Night Party is sponsored by the WSHS PTSA. Your donations help make this affordable for all students.